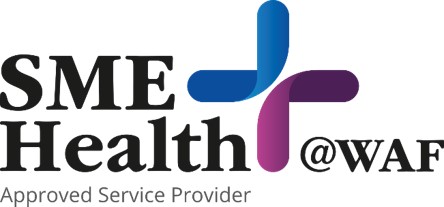 Camelot is the only
SME Health+
As we focus on enhancing employees' knowledge and skills, remember that it takes a healthy body and mind to optimise your employees' capabilities.
SME Health+ supports Small and Medium Enterprises (SMEs) in your health and fitness initiatives for employees by making impactful health programmes easily accessible and these can be easily implemented with minimal administrative work.
With direct co-funding from HPB, these programmes are designed to help your employees stay in the pink of health, thus affording them the means to deliver peak performance at work. The programmes include:
Chronic Disease Management
Monitor your employees' risk of chronic disease with basic health screening that covers Body Mass Index (BMI), blood pressure, fasting blood glucose and blood cholesterol. The programme includes one follow-up health coaching session.
Physical Activity
Choose from a range of fun physical activities to be conducted in the comfort of your workplace. Exercise delivers health benefits, and it actually boosts productivity as well.
Nutrition
Achieving good health is not just about expending calories; ingesting the right calories is just as important. SME Health+ presents a spread of classes that will teach you all about balanced meals, nutrition and quality calories through delicious recipes and enriching food for thought.
Mental Wellbeing
Bring harmony to your workplace. Enlighten your employees on ways to manage stress, build mental resilience and harness the power of emotional intelligence through a selection of programmes carefully curated to promote mental wellbeing, such as therapeutic activities, mindfulness workshops and informative talks.
Click here to find out more or register with SME Health+ @ WAF.
Physical Activity
| | | |
| --- | --- | --- |
| S/N | Programme Code | Activity |
| 1 | 2A1 | Dragonboat |
| 2 | 2A2 | Kayaking |
| 3 | 2A3 | Improvised Rafting |
| 4 | 2A4 | Archery Warrior |
| 5 | 2A5 | Bubble Soccer |
| 6 | 2A6 | Rock Climbing |
| 7 | 2A7 | Abseiling |
| 8 | 2A8 | Canopy Sky Walker |
| 9 | 2A9 | Low Elements |
| 10 | 2A11 | Amazing Race |
* Minimum 4 Physical Activities
Nutrition
S/N

Programme Code

Activity

1

3A1

Cracking the Calorie Code

2

3A2

Achieve a balanced meal through My
Healthy Plate

3

3A3

Sushi Making Workshop

4

3A4

Healthy Dessert Making

5

3A5

Healthy Korean Cuisine

6

3A6

Healthy French Cuisine

7

3A7

Healthy Japanese Cuisine

8

3A8

Healthy Mediterranian Cuisine

9

3A9

Healthy Festivals Workshops
* Minimum 3 Nutrition Workshops
Mental Wellbeing
S/N

Programme Code

Activity

1

4A1

Lecture: Stress Management

2

4A2

Lecture: Resilience Building

3

4A3

Lecture: Workplace Mental Health
Concerns

4

4A4

Terrarium

5

4A5

Soy Candle Making

6

4A6

Big Picture

7

4A7

U – Ken – A – Not

8

4A8

Tetramap : Why are you like that (1)

9

4A9

Tetramap : Why are you like that (2)
* Minimum 3 Mental Wellbeing Workshops